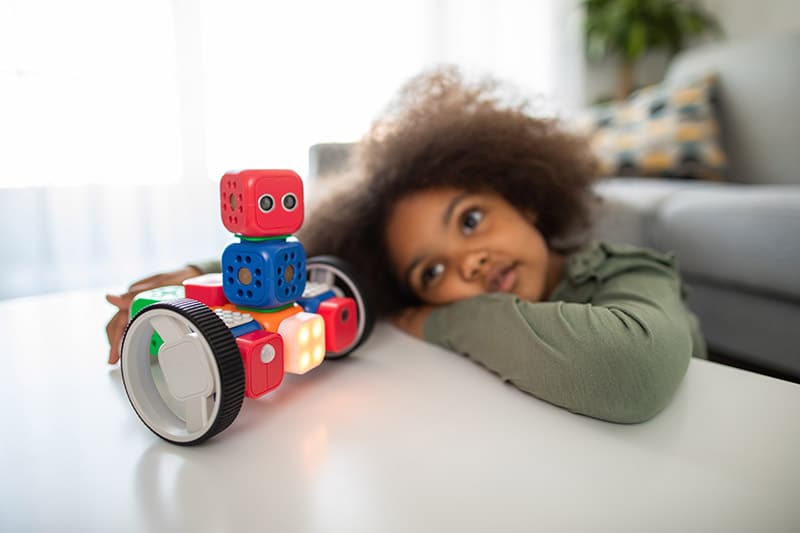 05 Jun

Toy Shopping Guide for Parents: The Importance of Toy Safety

Children love toys – whether they're safe or not. That's why the onus is on parents to choose safe toys for their children. Each year thousands of children are injured by their playthings. In fact, according to a report published by the U.S. Consumer Product Safety Commission (CPSC):
14 toy-related deaths occurred in the 2019 calendar year, as reported by CPSC staff
In the same year, approximately 224,200 toy-related injuries were treated in U.S. hospital emergency departments (59% of the injuries were found to be from male children).
To avoid scary incidents and nerve-wracking hospital visits, we've created this toy shopping guide and safety tips for parents. We've also added in some relevant information regarding toy safety in the age of COVID-19. Read on to learn more!
4 Simple Parenting Tips for Toy Safety
1. Buy appropriate toys for the right age.
This is always the first and most logical step to take when choosing a toy. You don't want to buy a 3-year-old a Lego set with tiny parts and you shouldn't purchase chemistry sets for kids younger than 12 years old. It might seem obvious, but it bears repeating: these are simply not age-appropriate and may pose threats to your child's safety.
Aside from small parts that can present a choking hazard, parents also should consider the following when toy shopping for their kids:
Is the child able to play with the toy?

Is the child old enough to understand the toy?

Does the toy fit the child's level of development?
If you're buying a toy as a gift, consider asking the child's parent what would be appropriate. If you're buying for your child, do some quick research to get ideas for what would be the best toys to buy for each age group. You might not realize it, but there's a fair amount of science and developmental psychology that goes into toy making – do some research and you'll find plenty of information about great toys for each age group and developmental level.
2. Read the label.
This second-most important tip is one of the most often to be ignored: read the label on any toy you buy.
Aside from choking hazards, here's what to look for on a label:
ASTM F963

– this label means the toy has met all US safety standards.

ASTM D4236

– this label is for art toys, and it means that it has been carefully reviewed by a certified toxicologist.

UL Approved

– this is what you need to look for if you're planning to buy electric toys.
Labels can also tell you if the toy contains magnets or may cause suffocation. Also, it's good to note that labels aren't required by law, and some toys are sold without them. So if you're confused between 2 or 3 great toys you're looking to buy, we'd recommend for you to choose the toy with the proper labels and warnings.
Make sure you check to see if toxic materials are found in your toys.
Even though they have been banned in the U.S. for decades, toxic materials can still be found in some toys. You especially need to look out for these if you buy toys made out of plastic or toys that are painted.
Lead (banned in the US in 1978)

PVC and Phthalates

Bisphenols (BPA + BPS)

Flame Retardant Chemicals

Formaldehyde
If the above toxic chemicals are inhaled or ingested, it can cause poisoning, nerve damage, and, in some serious cases of lead poisoning, even brain damage. The best way to ensure you're buying toys that don't contain any dangerous materials is to buy from well-known brands. You can also choose traditional toys made from wood or high-quality plastic.
3. Be extra careful when buying crib toys.
Newborns or young infants, in general, do not benefit from lots of toys. Sure, they need a stimulating environment and a few toys to aid their development, but all that an infant really needs is lots of love and care from his or her parents. As for their crib – it only needs to be safe, sturdy, clean, and comfortable.
If you're planning to buy a mobile for your baby, make sure it's placed out of the baby's reach and hung securely. If it falls, it could pose a strangulation risk. You should also make sure the crib is free from toys that could crowd the baby and make it difficult to breathe. You can always keep stuffed animals in a separate area.
Toy Safety in the Time of COVID-19
During COVID, we have all been staying at home a bit more than we used to. Because of that, children's play patterns have changed. They're probably playing at home more instead of with others, and cousins, nephews, and nieces might also visit more frequently than pre-COVID.
It's never been more important to keep your home and your child's toys clean and disinfected. You can find valuable disinfecting tips from the CDC, including a list of approved disinfectant brands that can kill the virus on surfaces.
Also, be aware that lockdowns and precautionary measures have also caused a significant drop in toy inspections, as reported in December 2020. This means that more toys are coming into the American market that are not carefully inspected by the Consumer Product Safety Commission (CPSC). Reports showed that, for safety reasons, the U.S. has pulled out our "toy police" from different ports of entry. If you've recently bought a potentially hazardous toy, don't hesitate to report it at www.saferproducts.gov.
Conclusion
Toys are an important part of childhood. They encourage creativity, develop imagination, and help children achieve developmental milestones. However, as with everything we give to children, we always need to be mindful about what we are letting them play or interact with. Every parent, guardian, or childcare provider must be aware of toy safety measures at all times. We hope our tips helped you!