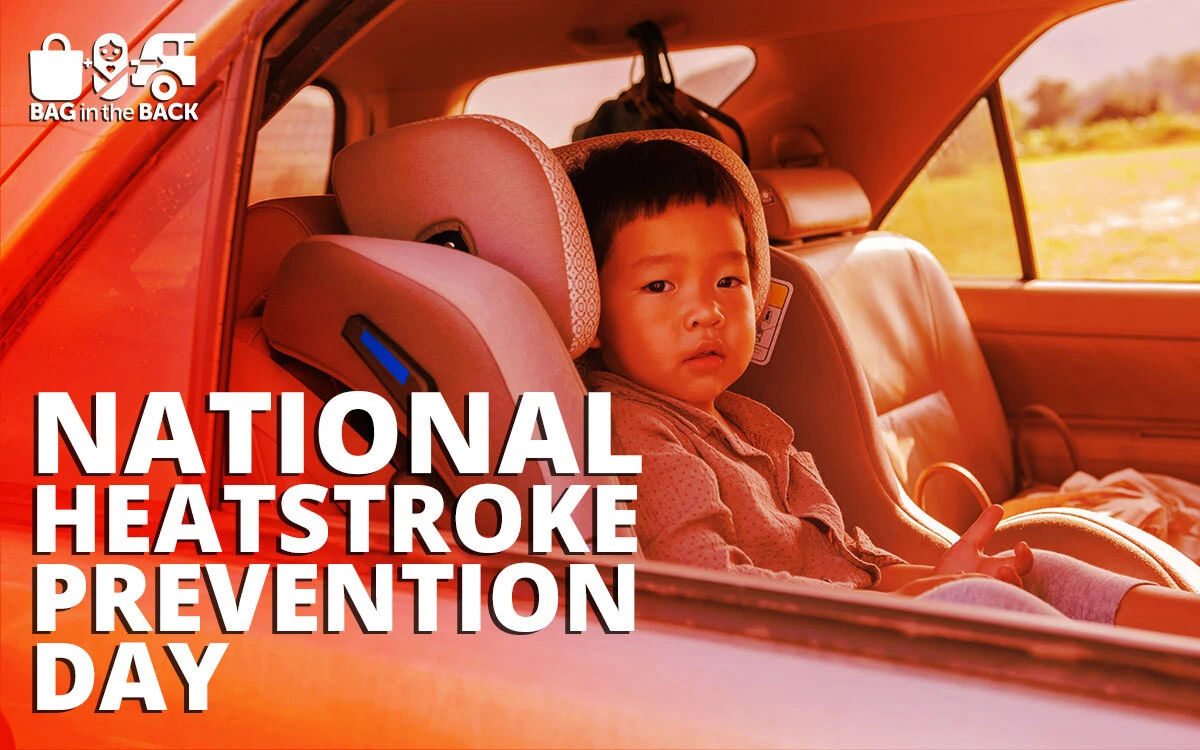 02 May

2023 National Heatstroke Prevention Day: Raising Awareness & Saving Lives

Two young lives have already been lost due to vehicular heatstroke as of April 3, 2023. With the hot summer months coming up, our families and communities must work together to prevent any more heartbreaking tragedies. In honor of this year's National Heatstroke Prevention Day, we have compiled a list of safety and prevention tips to keep your children safe in the car during hot weather.

Through our "Bag in the Back" campaign, The Sofia Foundation for Children's Safety joins this year's National Heatstroke Prevention Day on May 1, 2023. It's the perfect opportunity for us to shine a spotlight on our nationwide mission of raising awareness of the dangers of Pediatric Vehicular Heatstroke (PVH) (also known as hyperthermia), which continues to be one of the leading causes of non-crash fatalities among children under the age of 14 across the United States.

Parents and caregivers must always be alert and aware of their surroundings during the hot, busy, activity-filled summer season, ensuring kids are never left unattended inside hot vehicles. In an enclosed vehicle temperatures can rise very quickly, forming a life-threatening "greenhouse effect" where temperatures can increase up to 20 degrees Fahrenheit in just 10 minutes.

Fortunately, preventing PVH takes only a combination of simple steps and mindful, preventive practices. Take a look at some safety tips and habits to keep in mind this summer. We've also included free, shareable resources from Bag in the Back.
Mere Minutes Matter: What Happens When a Child is Left Inside a Hot Car?
Children are more prone to heatstroke than adults since their bodies heat up at a faster pace. 
At a body temperature of 104 degrees, heatstroke becomes a concern, and the child's life is jeopardized at 107 degrees.
Practice the "Bag in the Back" habit to stop hot car deaths. 
Learn more about our campaign here: https://bagintheback.org/preventing-vehicular-heatstroke-campaign/
Pediatric Vehicular Heat Stroke Fatalities by the Numbers
Even while PVH is completely preventable, we continue to see child heatstroke fatalities across the United States year after year. Here are the most recent numbers from 2018 – 2023, according to the United States Department of Transportation.
Child heat stroke fatalities in 2022: 33


Child heat stroke fatalities in 2021: 23 (lower than average, mostly due to the pandemic)

Child heat stroke fatalities in 2020: 25 (lower than average, mostly due to the pandemic)

Child heat stroke fatalities in 2018 and 2019: 53 (a record number of hot car deaths, the highest in 20 years according to noheatstroke.org)


These statistics underscore the importance of raising awareness and taking action to prevent pediatric vehicular heatstroke. By educating parents, caregivers, and communities about the inherent risks and implementing preventive measures, we can significantly reduce the number of tragic incidents and save young lives.
Safe Habits Save Lives: Child Safety & Prevention Tips
Leaving children unattended is never a safe option, regardless of where they are – whether it's at home or at school, but most especially in parked cars during hot days. Follow these tips to establish safe habits and responsible routines that will keep you and your little ones secure at all times
Never leave kids alone in vehicles –

not even for "just a minute."

We've mentioned this in the prevention tips above but it bears repeating. Temperatures rise quickly inside cars parked in direct sunlight on hot days; this can cause a child serious injury or death within minutes of being left unattended – even on milder days.

Place reminders in your car to help you remember to check for children at all times. Even sticky notes on the dash will help remind you of kids in your car.

Keep car doors and trunks locked when not in use to prevent children from entering the vehicle without supervision.

Teach children that cars are not a safe place to play and that they should never play in or around parked vehicles.

Make it a habit to always check the backseat of your vehicle before leaving it, even if you think there is no one seated there.

Develop a routine for dropping off and picking up children from daycare or school, and make sure that all caregivers are aware of the routine and follow it consistently.

Place a reminder item such as a bag, briefcase, or cell phone in the back seat next to your child as a reminder to check the back seat before leaving the car.

If someone else is transporting your child, such as a babysitter or family member, make sure they are aware of the risks and take the necessary precautions to ensure the child's safety.

If you see a child alone in a car, call 911 immediately.

Never let children play with keys or leave them within reach of children, as they can accidentally lock themselves in the car.

If a child goes missing, check the inside and trunk of all vehicles in the area, even if they are locked.
Properly secure a child in a car seat, with the harness straps snug against the body and at or below shoulder level. The chest clip should be at armpit level for infants and toddlers, who have narrow chests; it should be at mid-thigh level for older children, who have wider chests. Infants must ride in rear-facing seats until they reach age 2; toddlers must travel in forward-facing seats until they reach age 4 or weigh 40 pounds (18 kilograms). All kids need to stay buckled up until age 12 or 135 pounds (61 kilograms).

Keep vehicles well-maintained to prevent breakdowns or malfunctions that could result in a child being left unattended.
The Role of Technology in Helping Prevent PVH
The world has become increasingly reliant on technology to make life easier. Fortunately, technology is also helping to prevent heartbreaking incidents of hot car deaths from happening to children. Below are a few of the latest apps and innovations that help prevent pediatric vehicular heatstroke that you should know about:
One of the most promising technologies is the use of sensors designed to detect the presence of a child in a car seat and alert the driver if they have left the vehicle with the child inside. These sensors can be installed in the car seat or integrated into the car's existing systems. When connected to a smartphone app, these sensors can send reminders and alerts to caregivers to ensure that children are not left behind.
Some car manufacturers are incorporating heatstroke prevention technology into their vehicles. For example, General Motors currently offers a Rear Seat Reminder system in select models, which uses sensors to detect when a rear door has been opened and closed before the vehicle is started. It also reminds the driver to check the back seat for any passengers before exiting the vehicle.
Newer vehicles are also increasingly equipped with features such as automatic shut-off, which turns off the engine, as well as climate control after the driver exits the vehicle. This can be particularly helpful in preventing heatstroke incidents when a child is left in a running car.
Another promising technology is the use of smartphone apps that can alert parents or caregivers when a child has been left behind in a vehicle. These apps can use GPS tracking and Bluetooth technology to detect when the caregiver has left the vehicle and send alerts to their phone. Some apps also offer customizable alerts, such as push notifications, text messages, or alarms, to ensure that caregivers are aware of the situation.
While technology can play an important role in preventing hot car deaths, it's important to remember that no technology is foolproof. Caregivers should always take additional precautions by combining technology with responsible habits.
Bag in the Back Pediatric Vehicular Heatstroke Prevention Resources
Established in 2017, The Sofia Foundation for Children's Safety is dedicated to preventing tragic and avoidable instances of Pediatric Vehicular Heatstroke. "Bag in the Back" is the foundation's nationwide campaign dedicated to reaching millions of families with our life-saving message: make it a habit to leave a bag in the back, and help prevent hot car deaths.
Take action and help spread awareness by downloading and sharing our resources below with friends and family:
Awareness & Action Saves Lives: Do Your Part!
Every year, hundreds of kids die from heatstroke in vehicles. These preventable tragedies can be avoided if parents, families, and caregivers practice responsible habits as part of their day-to-day routine.
With the information in this blog, we hope that you've learned some effective ways to stop these heartbreaking incidents from ever happening. If you have any other prevention tips that we did not include on this list, please feel free to share them with us!
If you're interested in doing more to prevent vehicular heatstroke, consider making a donation and supporting Bag in the Back.