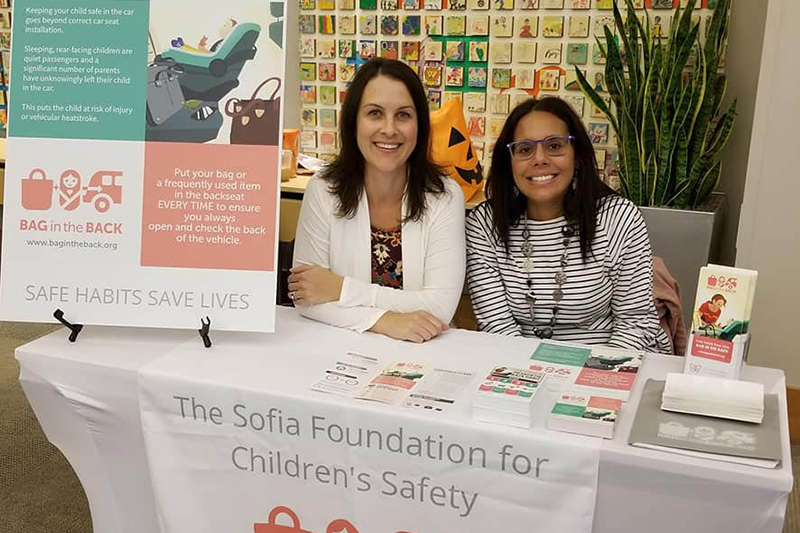 08 Oct

Summer 2018 Newsletter

Dear Friends, Family, and Supporters,

Today we are reflecting on the progress we've seen in the five months following the Bag in the Back campaign launch: vigorous community building, new partnerships, and policy changes in service to awareness and prevention of vehicular heatstroke. Invigorated by this heartening work, we continue to transform our grief into passionate service to the cause of children's safety.

Without your passion and support in spreading the Bag in the Back message, the launch of this campaign and the establishment of the SFCS would not have been possible. With this newsletter, providing updates on progress, resources and information, and ways to engage further, we aim to recognize your progress and say 'thank you.' We hope you will be as invigorated as we are with the progress we've made.
Sofia Foundation for Children's Safety 2018 Highlights
SFCS Inspires Lifesaving Addition to Tadpoles App
"Unexpected Absence" alert feature allows daycare providers to easily alert parents.
Car Manufacturers Step Up with Tech Support
Assistive tech introduced by car manufacturers can be a helpful tool in the fight for greater safety.
Our Mission Moves Us Forward
We work to protect the lives and well-being of children by increasing awareness of everyday dangers, educating caregivers, and instilling lasting safety and prevention habits.
Find and Share Quick Tips to Save Lives
Download and share our free specialized resources to grow awareness of key habits that can save lives.