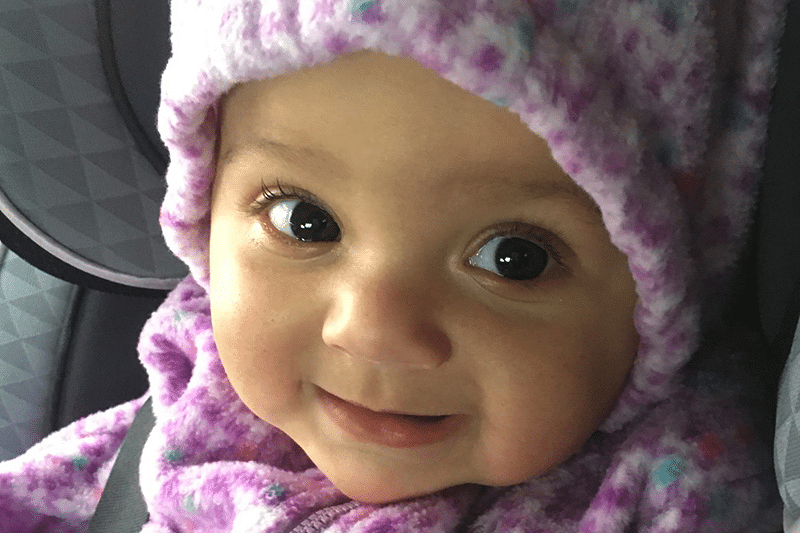 06 Jul

The Sofia Foundation for Children's Safety: An Ongoing Mission to Save Lives and Raise Awareness

A cause that everyone can support, the fight to prevent child vehicular heat stroke lives on. In honor of Sofia's legacy, find your inner butterfly and be the responsible parent, doctor, or mjt6r childcare provider that we all aspire to be — one who pays attention, puts safety first, and makes smart choices for all children. Learn more about the Sofia Foundation for Children's Safety and our ongoing mission to spread awareness and prevent hot car deaths.

Every parent's worst nightmare is losing a child, especially in preventable circumstances. Karen Osorio-Martinez, the founder of the Sofia Foundation for Children's Safety, experienced this tragedy firsthand when her beloved daughter, Sofia Victoria Aveiro, lost her life to vehicular heatstroke.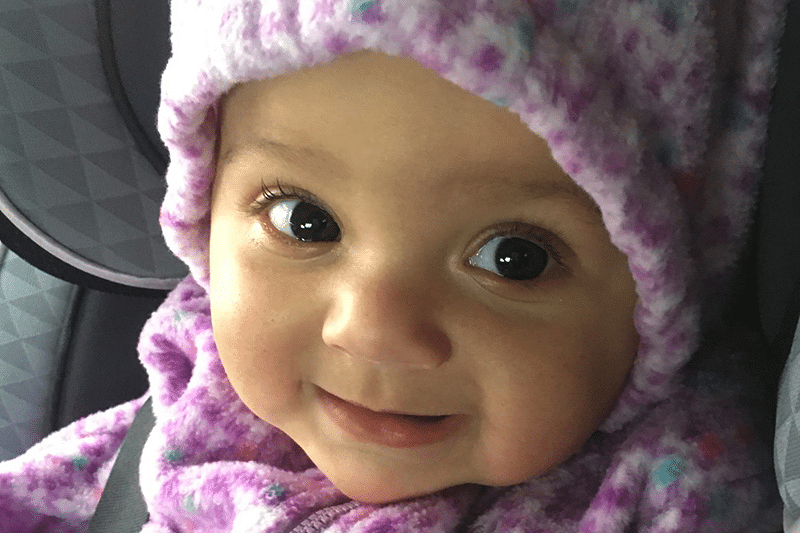 Image source: https://bagintheback.org/mission/
Determined to prevent similar tragedies and honor Sofia's memory, Osorio-Martinez launched the foundation on what would have been Sofia's second birthday. The foundation's mission is to cultivate safe habits that can save babies' lives and raise awareness about the dangers of leaving children unattended in hot cars. 
With the powerful awareness campaign "Bag in the Back" and the symbolic butterfly logo, the foundation aims to ensure that no parent experiences the devastating loss that Osorio-Martinez endured.

Let's revisit the foundation's impactful story and explore how you too can get involved in preventing hot car deaths in young children.
A Heartbreaking Wake-Up Call
In August 2017, Karen Osorio-Martinez's life changed forever when she accidentally left Sofia in her car seat in the back of her vehicle while going to work. The heart-wrenching surveillance footage shows her frantic realization and the devastating aftermath of finding her 15-month-old daughter lifeless. Osorio-Martinez, still haunted by that day, understands the significance of preventing similar tragedies and has dedicated herself to raising awareness.
"I want Sofia's life to mean something," Osorio-Martinez said in an interview. "Maybe God sent Sofia as an angel with a greater purpose, to help other babies. It's devastating that it happened to me, but I am hoping it doesn't happen to anyone else."
These words reflect the profound impact Sofia's passing had on her mother's perspective and the deep motivation behind the establishment of the Sofia Foundation for Children's Safety. Osorio-Martinez's unwavering determination to prevent similar tragedies and protect other families from experiencing the same pain is a testament to her strength and resilience. Through the foundation's initiatives, Sofia's legacy lives on, shining as a beacon of hope and driving the mission to safeguard children and ensure their well-being.
The "Bag in the Back" Campaign: Saving Lives through Safe Habits
The Sofia Foundation for Children's Safety strives to create safe habits that can save lives. The foundation's flagship campaign, "Bag in the Back," serves as a subtle reminder to parents and caregivers. By placing an essential item like a purse or briefcase in the backseat, individuals are prompted to double-check and ensure that their child is not left behind before leaving the vehicle. This simple habit can prevent unintentional hot car deaths and provide a layer of protection for children.
The statistics surrounding vehicular heatstroke and parental awareness emphasize the critical need for the foundation's mission. Each year in the United States, an alarming 37 children lose their lives in hot cars, equivalent to approximately one tragic incident every nine days. Despite this concerning frequency, only a mere 5% of parents receive information about preventing vehicular heatstroke, whereas a significant 90% of parents receive information about Sudden Infant Death Syndrome (SIDS) from pediatricians. This disparity highlights the urgent necessity for increased education and awareness regarding the dangers of hot cars and the preventive measures that can be taken.
Shockingly, over 50% of parents do not practice any specific habit to prevent accidentally leaving a child in the car. This statistic underscores the pressing need for initiatives like the Bag in the Back campaign, which seeks to instill simple yet life-saving habits in parents and caregivers. By encouraging the adoption of these preventive practices, the Sofia Foundation aims to raise awareness and help parents develop a heightened sense of responsibility when it comes to the safety of their children.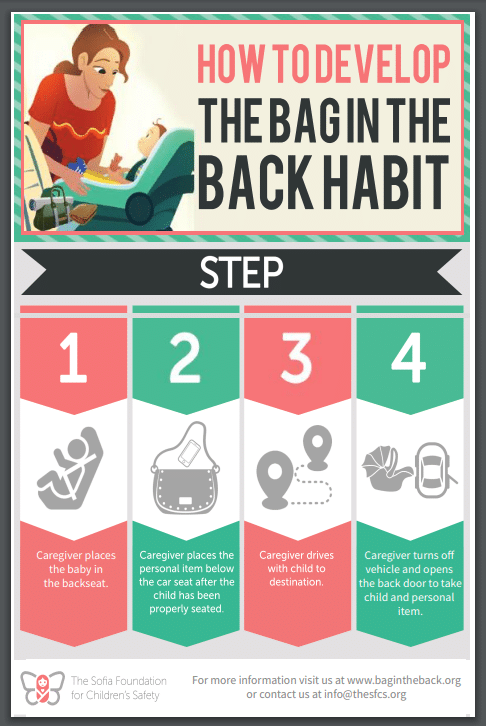 Educating the Public: Pediatric Vehicular Heatstroke Prevention
Pediatric vehicular heatstroke, also known as hot car death, is a devastating and entirely preventable tragedy that occurs when a child is unintentionally left inside a hot vehicle. The temperature inside a car can quickly escalate to dangerous levels, even on mild days, posing a severe risk to the child's health and well-being.
Vehicular heatstroke happens when a child's body temperature rises to a dangerous level, typically above 104 degrees Fahrenheit (40 degrees Celsius). Children's bodies heat up three to five times faster than adults, making them highly vulnerable to heat-related injuries or fatalities. Even a short period in a hot car can have life-threatening consequences.
It is crucial to understand that vehicular heatstroke can happen to anyone, regardless of their socio-economic background, education, or level of love and care for their child. Often, these incidents occur due to a combination of factors such as forgetfulness, change in routine, distractions, or miscommunication between caregivers.
One of the major challenges in preventing vehicular heatstroke is the lack of awareness among parents and caregivers. The media often sensationalizes cases of hot car deaths, focusing on blaming and vilifying parents rather than providing education about the risks. This misrepresentation leads many attentive parents to dismiss the issue, thinking they could never forget their child. The Sofia Foundation aims to change this narrative by educating the public about vehicular heatstroke and encouraging open dialogue.
The foundation seeks the support of parents, healthcare providers, and caregivers in spreading their message of prevention. They provide informative materials that can be downloaded, distributed, and displayed to help raise awareness. By dispelling misconceptions and providing accurate information, the foundation empowers parents to understand the risks and take necessary precautions to protect their children.
Partnerships for Prevention
The Sofia Foundation for Children's Safety recognizes the crucial role that different stakeholders can play in preventing pediatric vehicular heatstroke. They have tailored resources and information for various groups:
Continuing the Journey: Post-Pandemic Challenges
Karen Osorio-Martinez reflects on the relevance of the Bag in the Back message in the post-pandemic environment. Despite contemplating when it would be the right time to pause the awareness effort, she received a stark reminder of the ongoing need for education. 
Recently, she encountered a child left unattended in a car in front of a supermarket and realized that both the store employees and the child's mother did not understand the seriousness of the situation and weren't prepared to handle it.  With an increase in vehicular heatstroke incidents as people return to normal routines, the Sofia Foundation is dedicated to sustaining awareness efforts and driving the crucial dialogue.
Saving Lives, One Habit at a Time: Sofia's Legacy Lives On
The Sofia Foundation for Children's Safety, born out of a heartbreaking tragedy, is making a profound impact in the fight against vehicular heatstroke. The Bag in the Back habit is a simple, actionable routine that, when practiced daily, can prevent the dangers of leaving children unattended in hot cars, the foundation strives to save lives and prevent future tragedies. 
What's new at Sofia's Foundation for Children's Safety?
In addition to their ongoing campaigns, the Sofia Foundation is actively working on developing a comprehensive whitepaper that delves into the common risks and injuries children face around cars. 
This whitepaper will provide valuable insights and information to parents, caregivers, and healthcare providers, equipping them with the knowledge to prevent accidents and protect children from harm. Through their dedication to research and education, the foundation aims to create a safer environment for children, both inside and outside of vehicles. 
As we reflect on Sofia's memory, let us support the Sofia Foundation in its mission to create a world where no child is left unattended – in vehicles and anywhere else. Together, we can make a difference and protect our most precious gift: our children.
Take action and help spread awareness by downloading and sharing our resources below with friends and family:
Explore our library of resources to learn more about vehicular heatstroke and other childhood health concerns
If you're interested in doing more to prevent vehicular heatstroke, consider making a donation and supporting Bag in the Back.