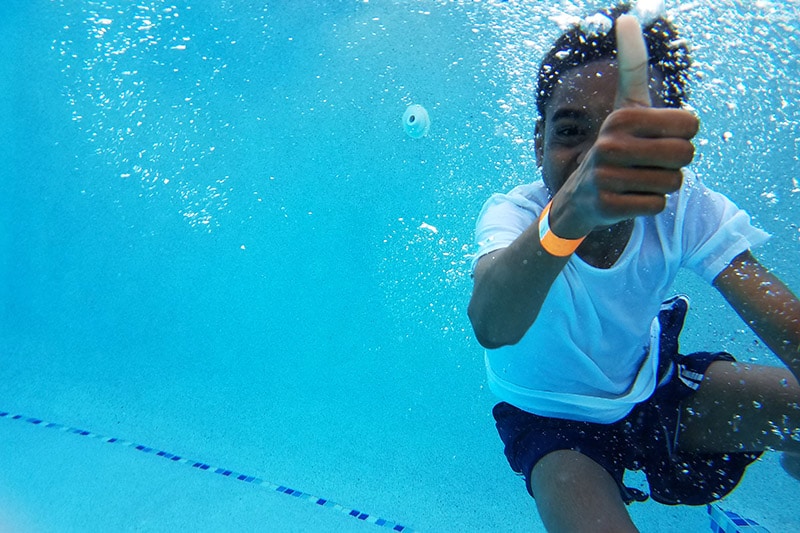 12 Jun

Safe Swimming Tips for Parents & Kids

Swimming is undoubtedly a favorite family activity. And with summer fast approaching, we're sure to want to take the kids swimming in the pool, waterpark, or, if you're lucky, to the beach.

But with family fun always comes the number 1 rule: safety. In most parenting classes, for example, brief courses are offered on water safety to teach both parents and children safe swimming habits. And for good reason. Young children when left unsupervised can drown in even an inch of water. Let's have a look at the recent numbers as reported by the CDC and Safe Kids Worldwide:
About 1 in 5 people who die from drowning are children 14 years old and below.
For every child who dies from a drowning incident, another five children are taken to the ER for emergency care relating to nonfatal submersion injuries.

The year 2016 recorded the highest number of drowning deaths in children – 1000 in all.

43% of drowning fatalities in children happen in open water, 38% happen in pools, 9% in bathtubs and still another 10% happen in places categorized as "other." This could mean small bodies of stagnant water at home, inflatable pools, sinks, buckets, toilet bowls, etc.
As you can see, child drowning is a significant problem that needs to be addressed. That's why we've gathered some tried-and-tested swimming safety tips and drowning prevention information to help you have the best and safest family experience in the water this summer.
Safe Swimming Tips for Parents & Kids
Learn, learn, learn.

Director of the Children's Safety Network at the Education Development Center (EDC), Jennifer Leonardo says that education is the key to safe swimming. Even if you're a veteran parent or someone who's been swimming all your life, brushing up on your CPR skills and first aid knowledge can save a life.

Take for example, the fact that the majority of recorded child drowning deaths happen in open water. Many parents might think that swimming in the pool is basically the same as swimming at the beach. It isn't. Open water swimming presents hazards that are not found in swimming pools or designated swimming areas. According to Safe Kids Worldwide, open water hazards include:

Dangerous currents

Sudden drop-offs
Limited visibility
Depth of water
Rocks and vegetation
Cold temperatures
Difficult-to-judge distances

This is why if you're planning to take your family swimming out in the ocean, at a large lake, or another body of open water, you should take extra precautions, and educate yourself or enroll yourself/your children in open water swimming courses. Most importantly, look into a course that will teach you what to do in case of an open water emergency without putting yourself at risk.

Aside from safety courses, when you do plan to go swimming, learn about the destination. Talk to a local guide, consult a website, check previous drowning incidents, and get all the information you need to help you plan a safe trip.

Always assign an adult water watcher.

Talk to your spouse or adult family member so you can take turns in watching the kids with no distractions in 30 – 45 minute intervals. The water watcher should always be at arm's length of the kids (or with the kids, if looking after toddlers or younger), and ideally know CPR/first aid.

To help make watching your kids a bit easier, here are some added tips:

Let the kids wear brightly-colored swimsuits so they're easy to spot and they won't blend in with the water.

Buy and wear US Coast Guard-approved life jackets. Here you can find a

label explanation guide

from the Life Jacket Association so you'll know how to spot approved life jackets.

Weak swimmers (or young swimmers) should always wear Personal Floatation Device (PFDs) or life jackets. Water toys or aids like inflatable water rings and water wings will not prevent drowning.

Build an isolation fence for pools at home and cover pool drains


Most states provide standardized regulations when building residential inground swimming pools. 

Depending on where you live, you might be required to build barriers around your residential swimming pool. This is usually in the form of a four-sided isolation fence that clearly separates the pool from your home, which helps prevent accidental drownings. 

If you're looking to book a vacation rental with a pool this summer, we would also recommend for you to look for a home with an isolation fence to prevent accidents in an unfamiliar environment. 

Aside from a fence, drains should also be covered as there are several recorded incidents of tragic deaths termed "drain entrapment". This became such an important issue that anti-entrapment drain covers were passed into law in December 2007.

Know the signs of dry drowning.

Not all drowning happens in water. Sometimes, it can happen within an hour after swimming. This is called "dry drowning". Although not exactly a medical term, it is a rare swimming-related complication that mostly occurs in children.

Dry drowning happens after swimming where your child could have possibly breathed in water. With dry drowning, however, water never reaches the lungs, but instead causes the child's vocal cords to spasm and then close. This makes it difficult to breathe because the airways are shut off. Signs are noticeable right away:

Irritable and behaving unusually
Difficulty breathing/coughing
Chest pain
Sleepiness/drowsiness after a water incident

If you notice the symptoms above, call 911 right away. While waiting for medical care, keep your child calm. This will help relax the airways. Once help arrives, treatment is generally administered on-scene.
Conclusion
Swimming is a fun pastime that those of all ages enjoy. But swimming comes with its own set of risks – especially to children. If you take precautions, educate yourself, and watch your kids without distraction, you're sure to have a relaxed and safe swimming experience.